Weasel Reader had a feature: it would display marks for all the bookmarks in the indicator line. Handy when you're reading a collection of short stories and want to know how much you'll have to read until the next one.
Today I hacked up this feature for FBReader. Get the .deb in the usual place.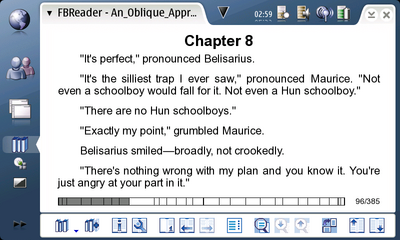 FBReader with Table of Contents marks in the position indicator. The book is An Oblique Approach by David Drake and Eric Flint, from the Baen Free Library.
While I was doing that, bzr decided to shake my confidence in it and started throwing assertion errors right and left (no link, the mailing list archive lags horribly).